Life Is Good For Now
A data scenario by Bernd Hopfengärtner & Ludwig Zeller
"All we have to do is to connect the things with each other: the closest with the farthest, the most obvious with something that is not realized at all. There has never been a time before, in which so many people were as interconnected by sensors, algorithms and machines. Just imagine this: a gigantic poetry machine… And what does it produce?"
Julia Brunner, author
Bernd Hopfengärtner and Ludwig Zeller offer a speculative view on a Switzerland that decided to realize the right for informational self-determination. In four scenarios that are narrated through objects and speech from the perspectives of inhabitants of that world the cultural potential and consequences of Big Data in the context of medicine, property and literature are exemplified. The project originated through a commission by the Swiss Center for Technology Assessment (TA-SWISS) and was premiered in May 2015 at the H3K in Basel.
Specifications: 3D renderings, 1080p video loop, stereo sound, running time 14'42'', 2015.
What does it mean to be informationally self-determined?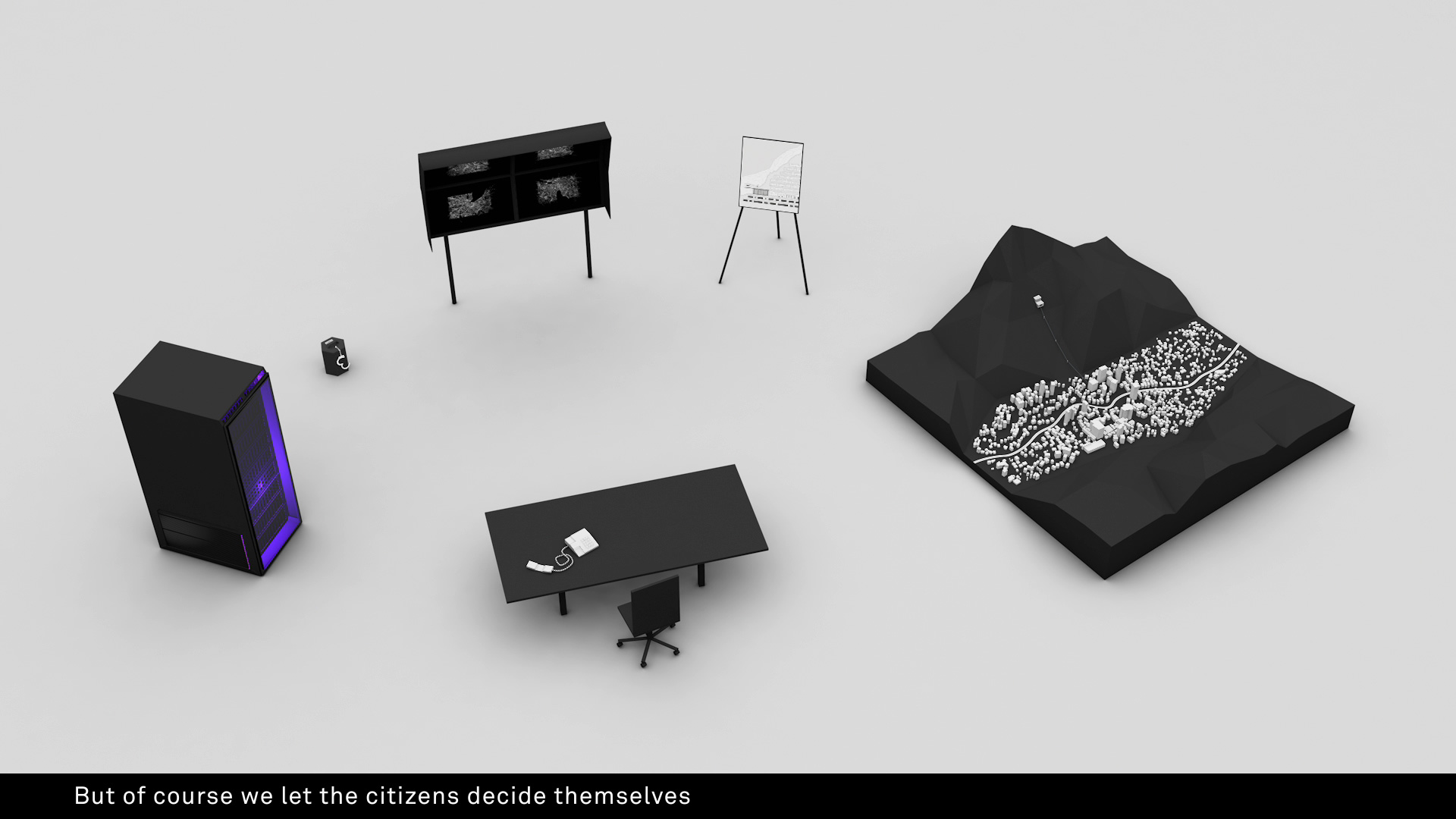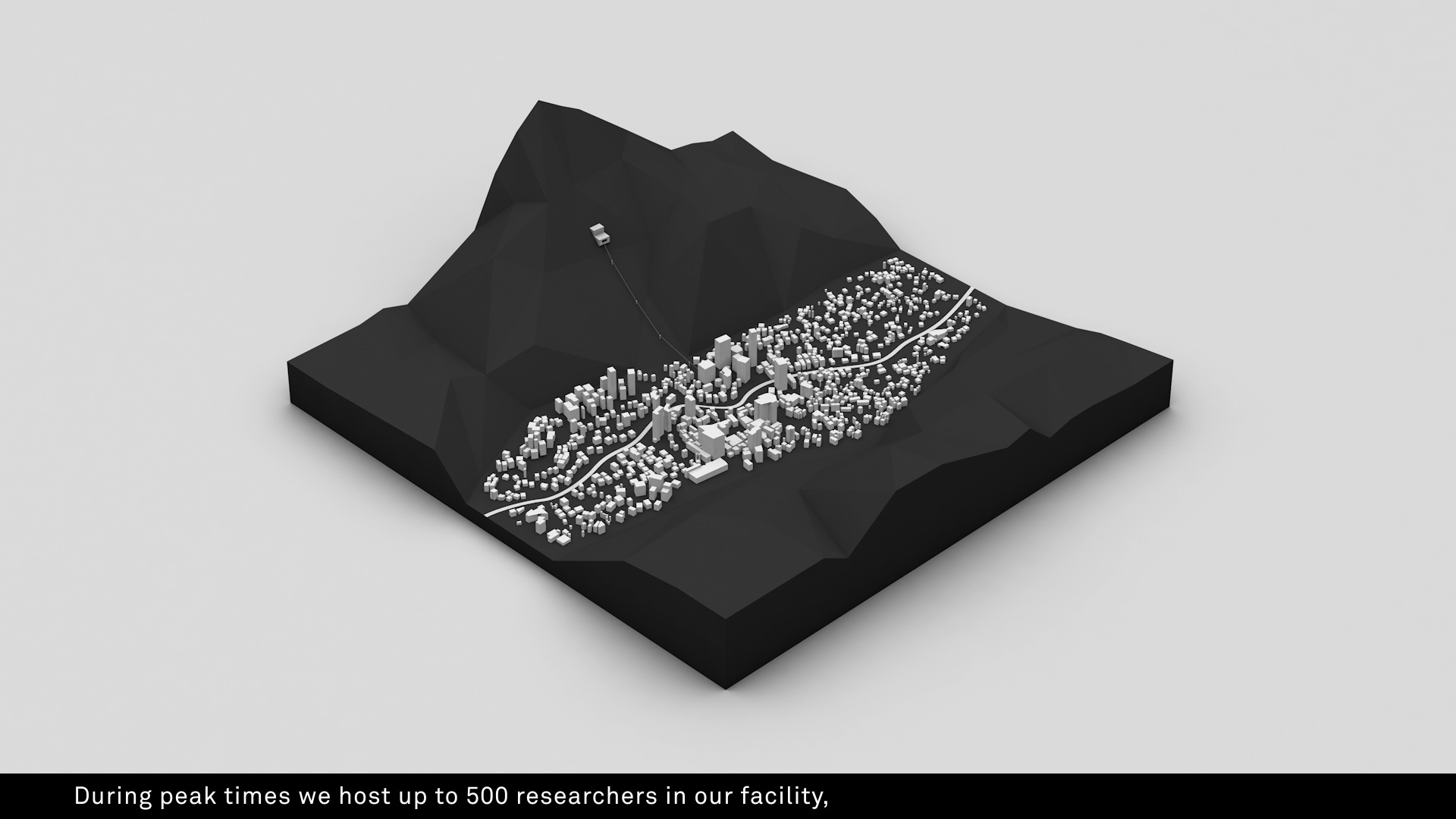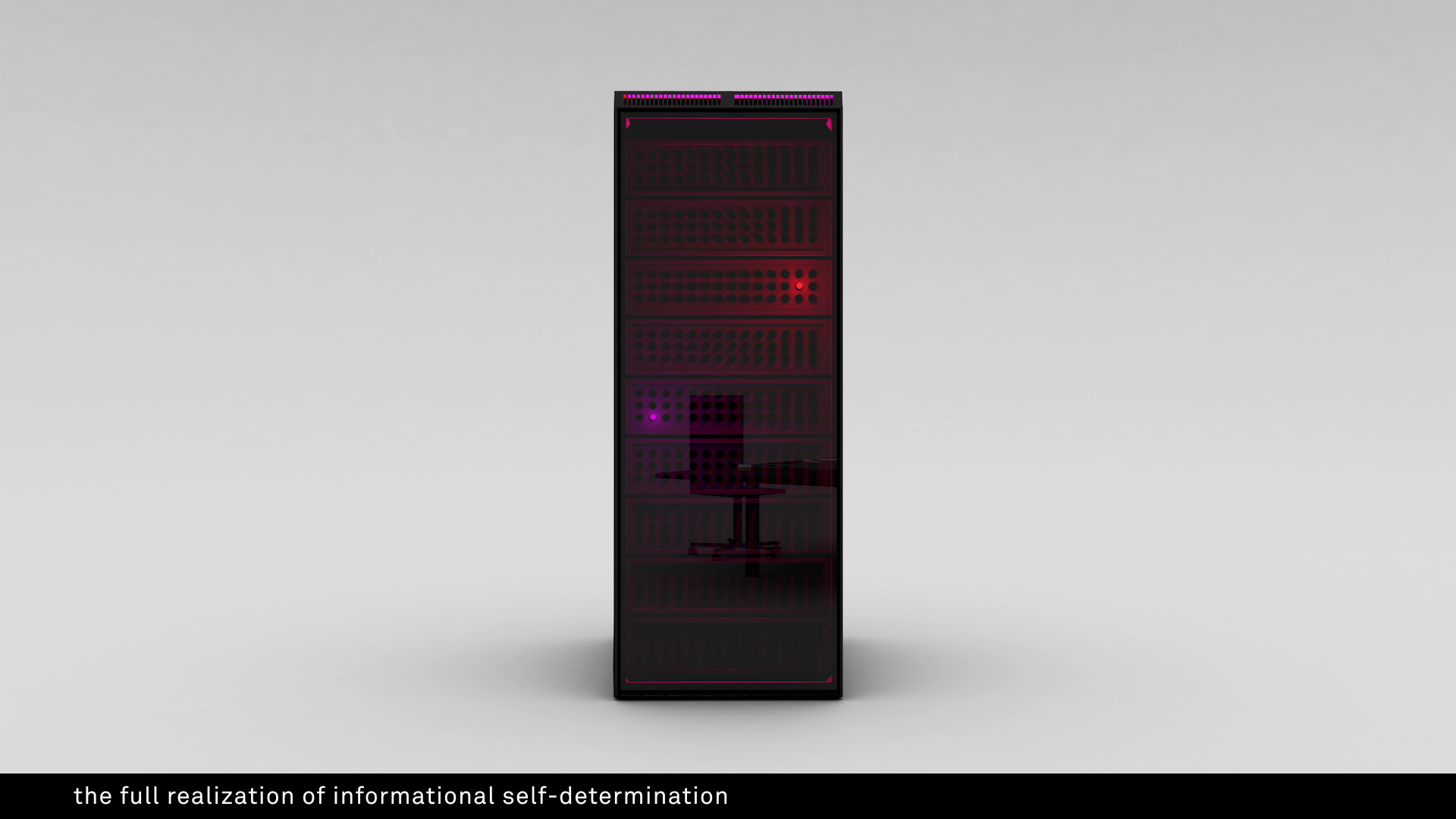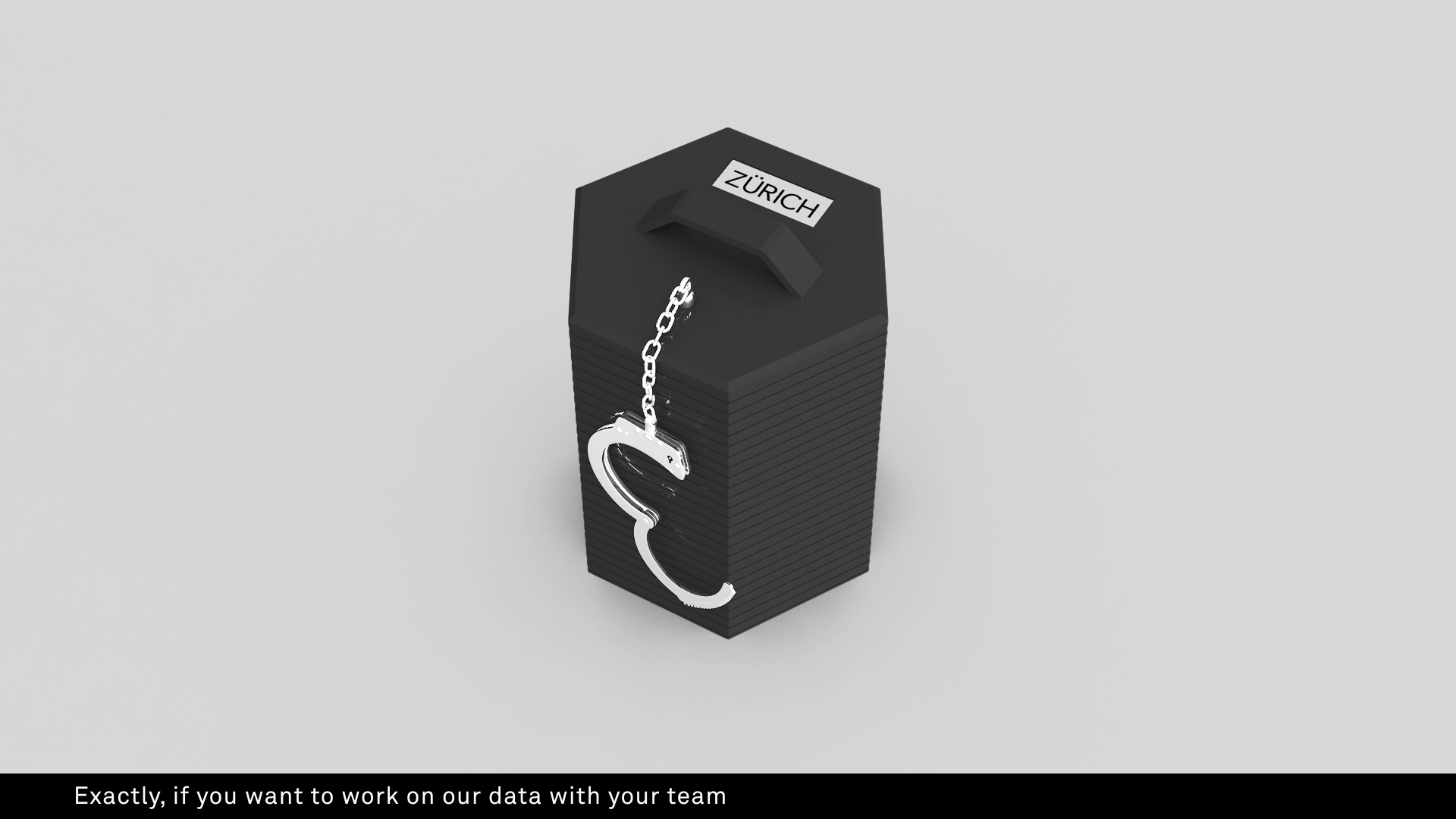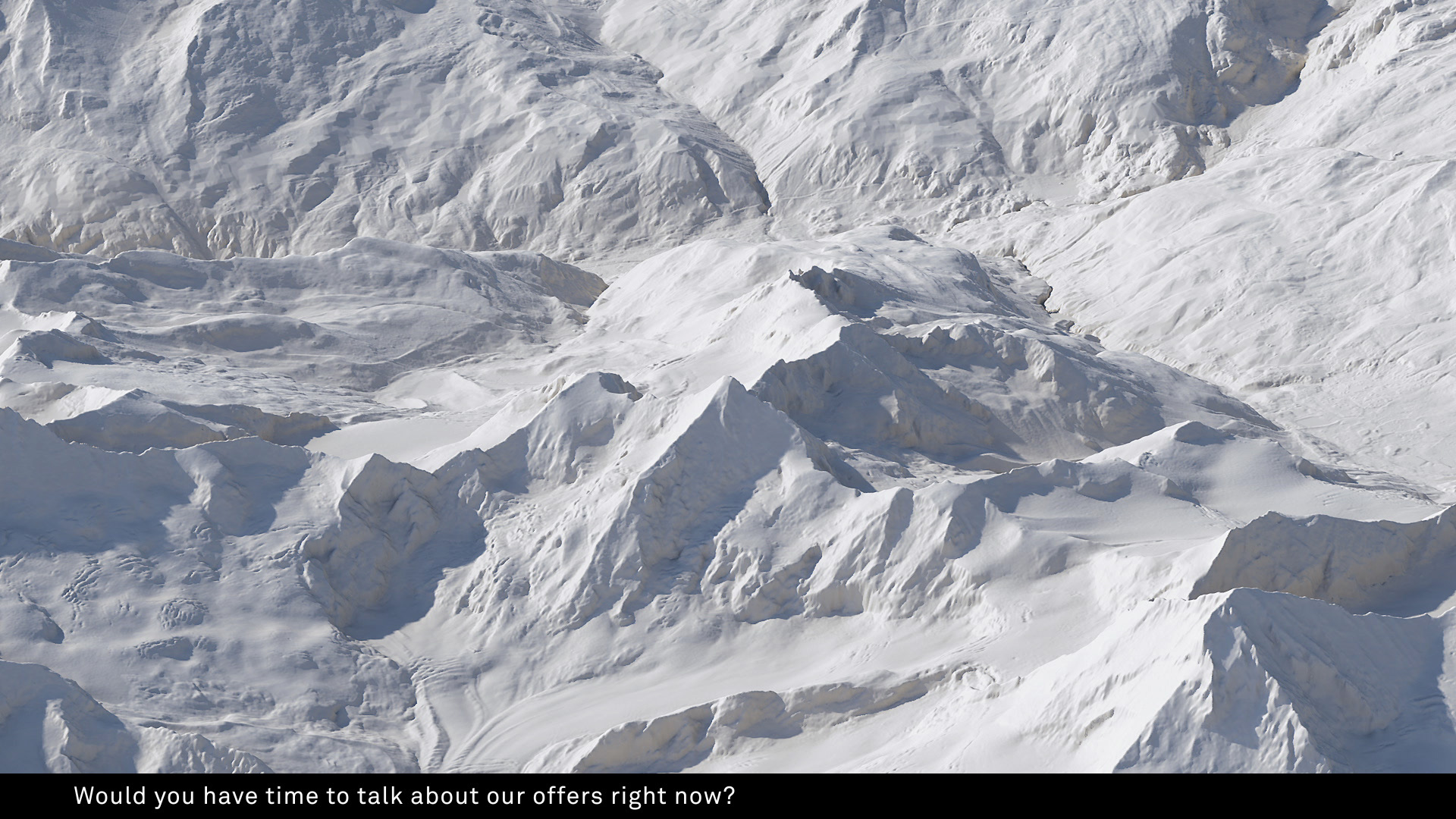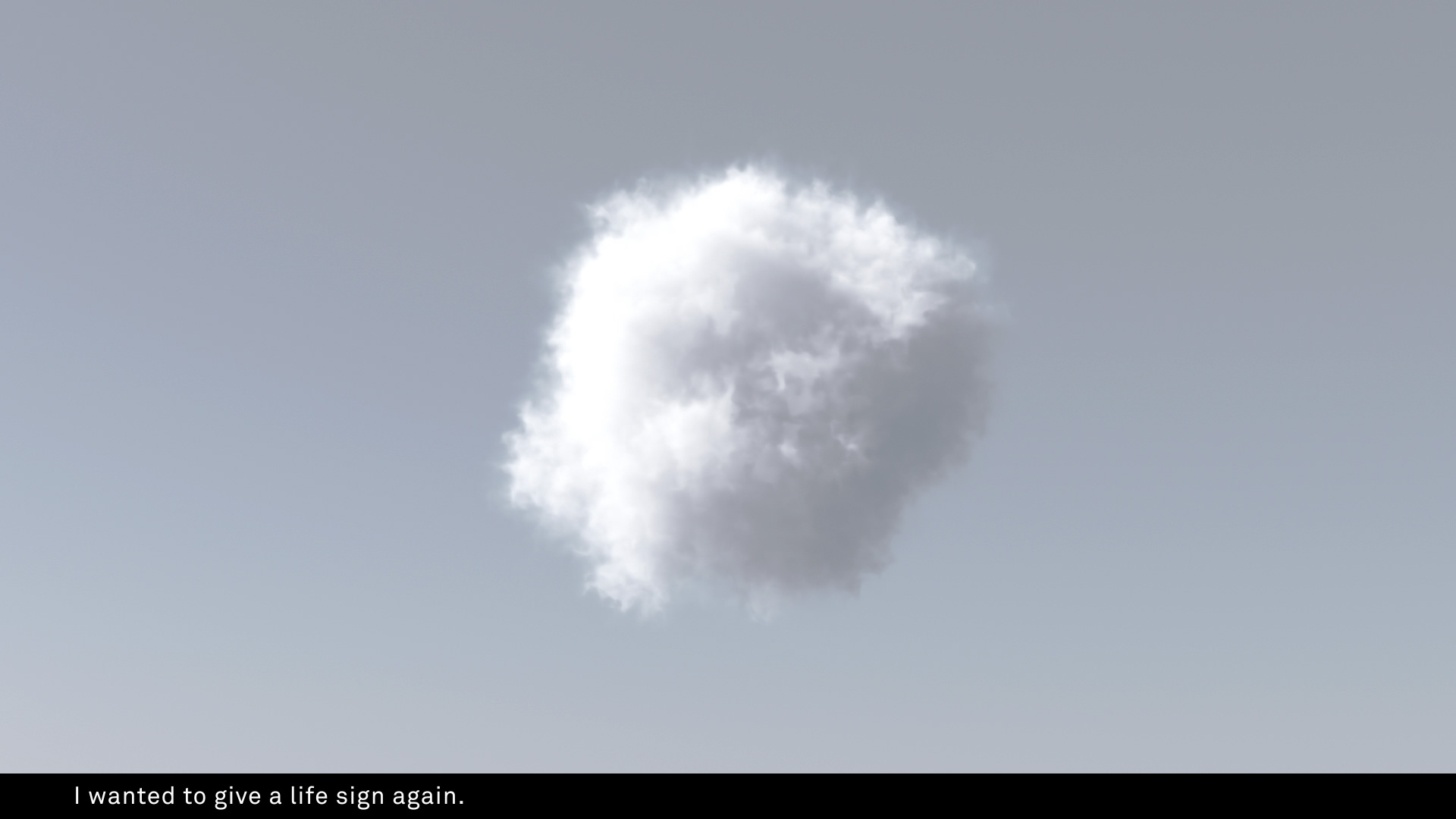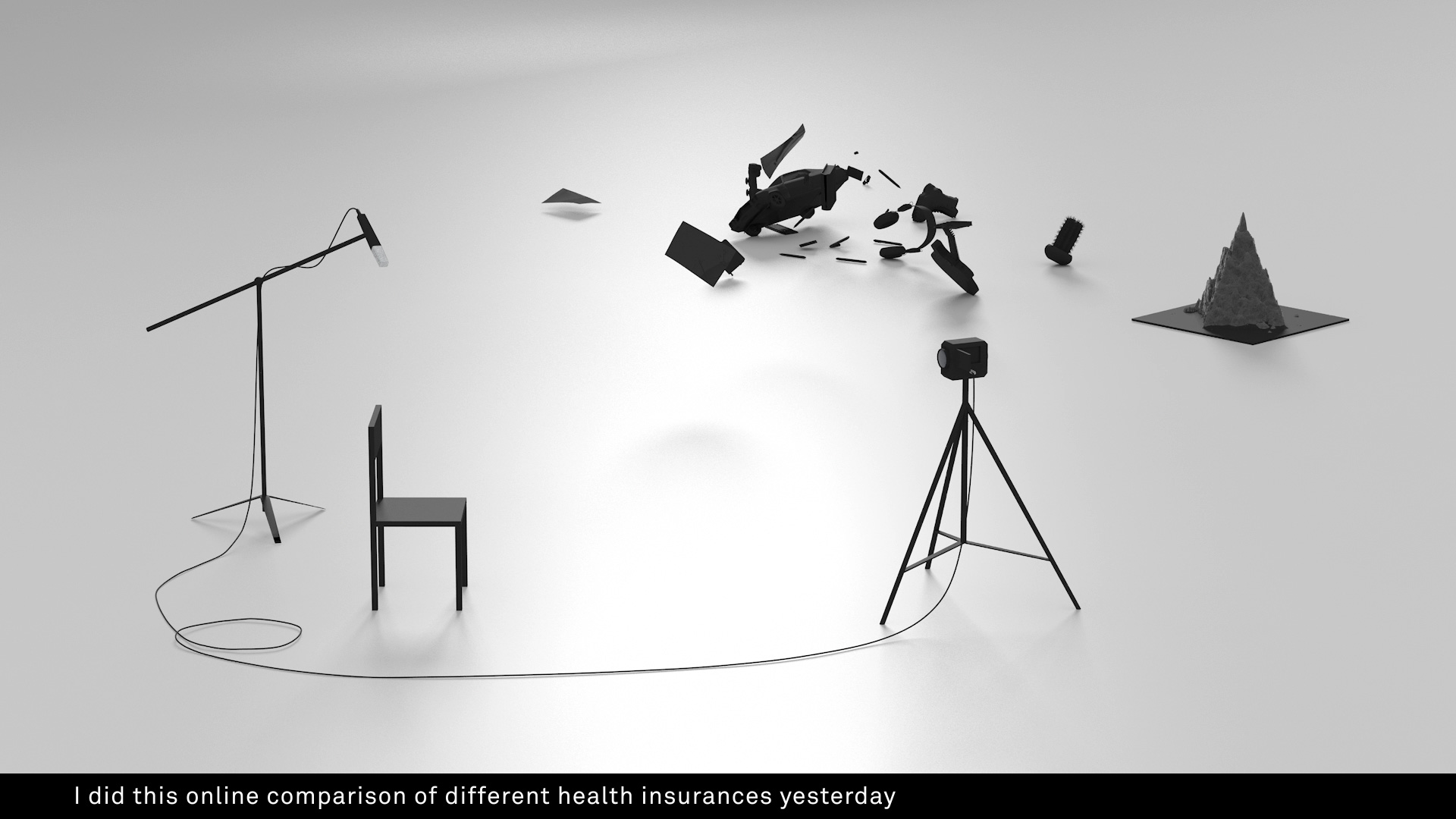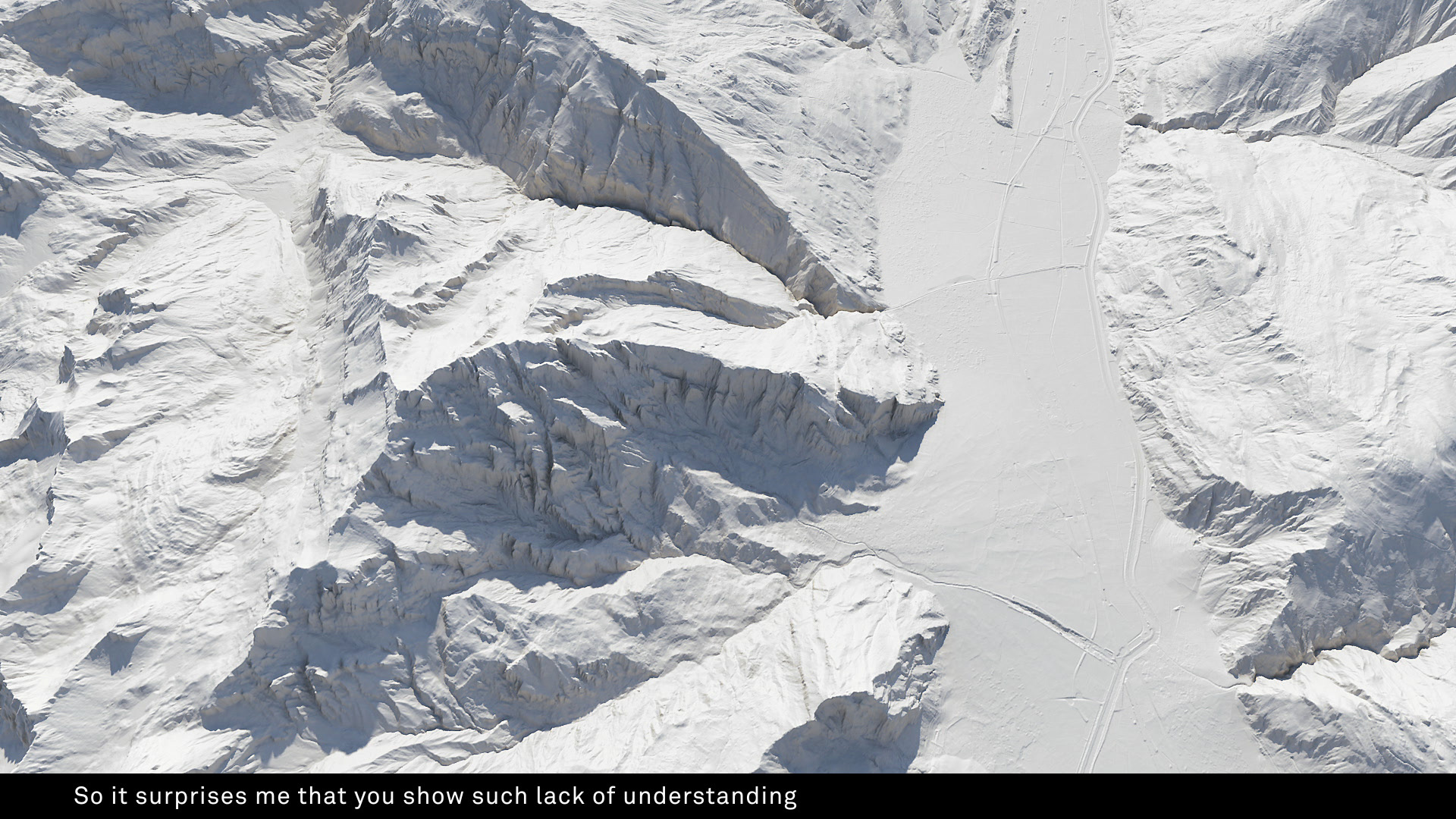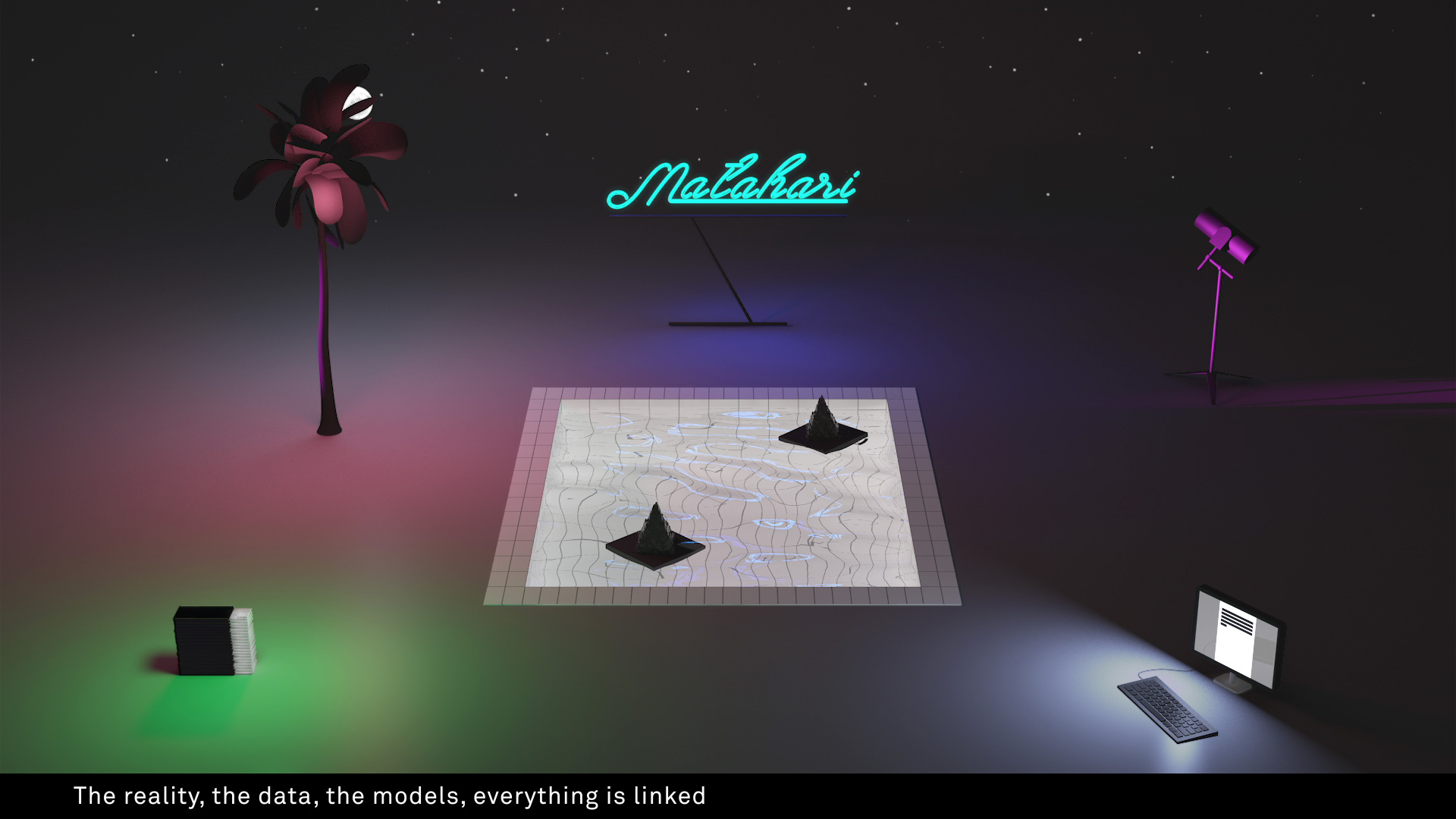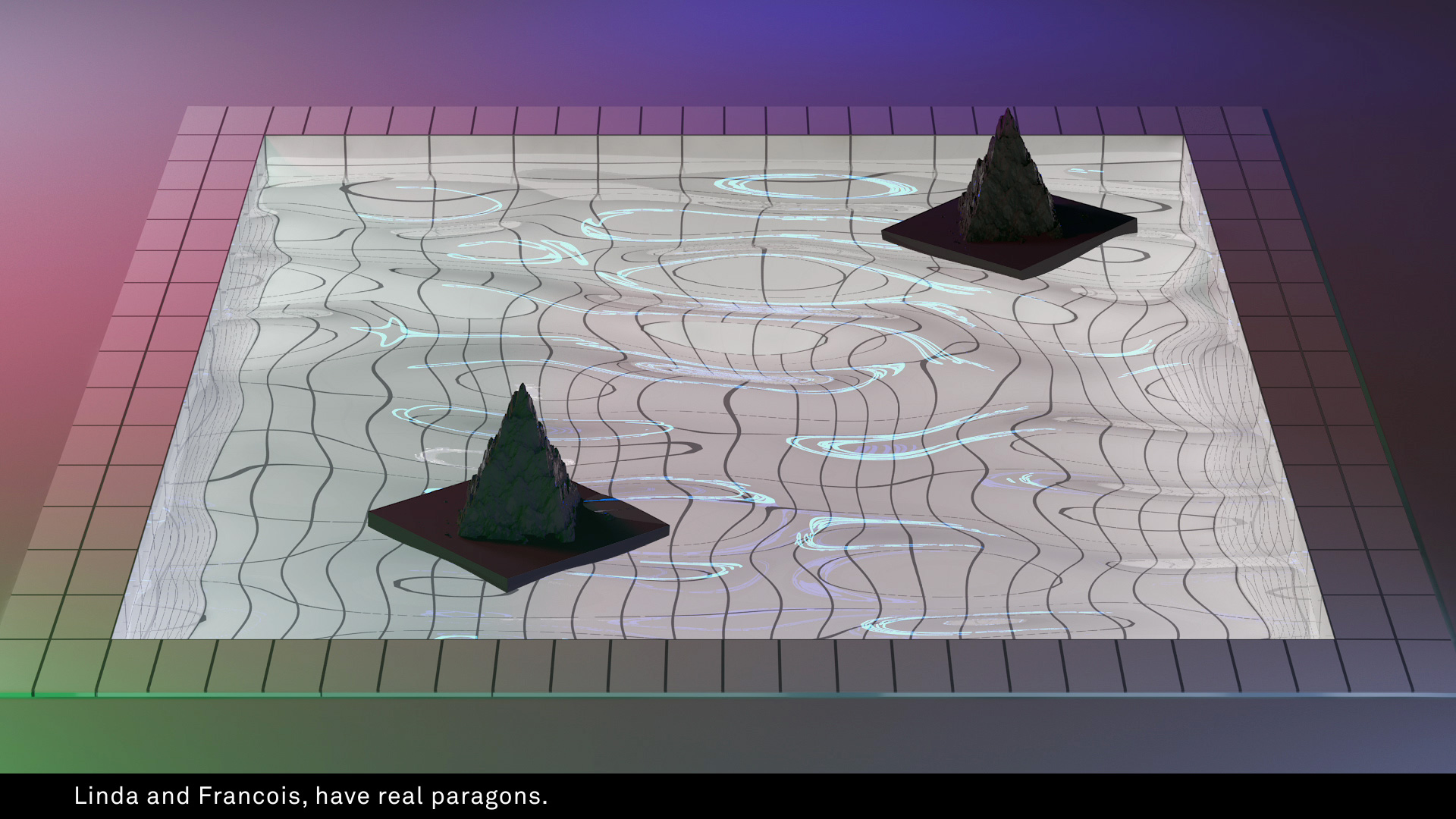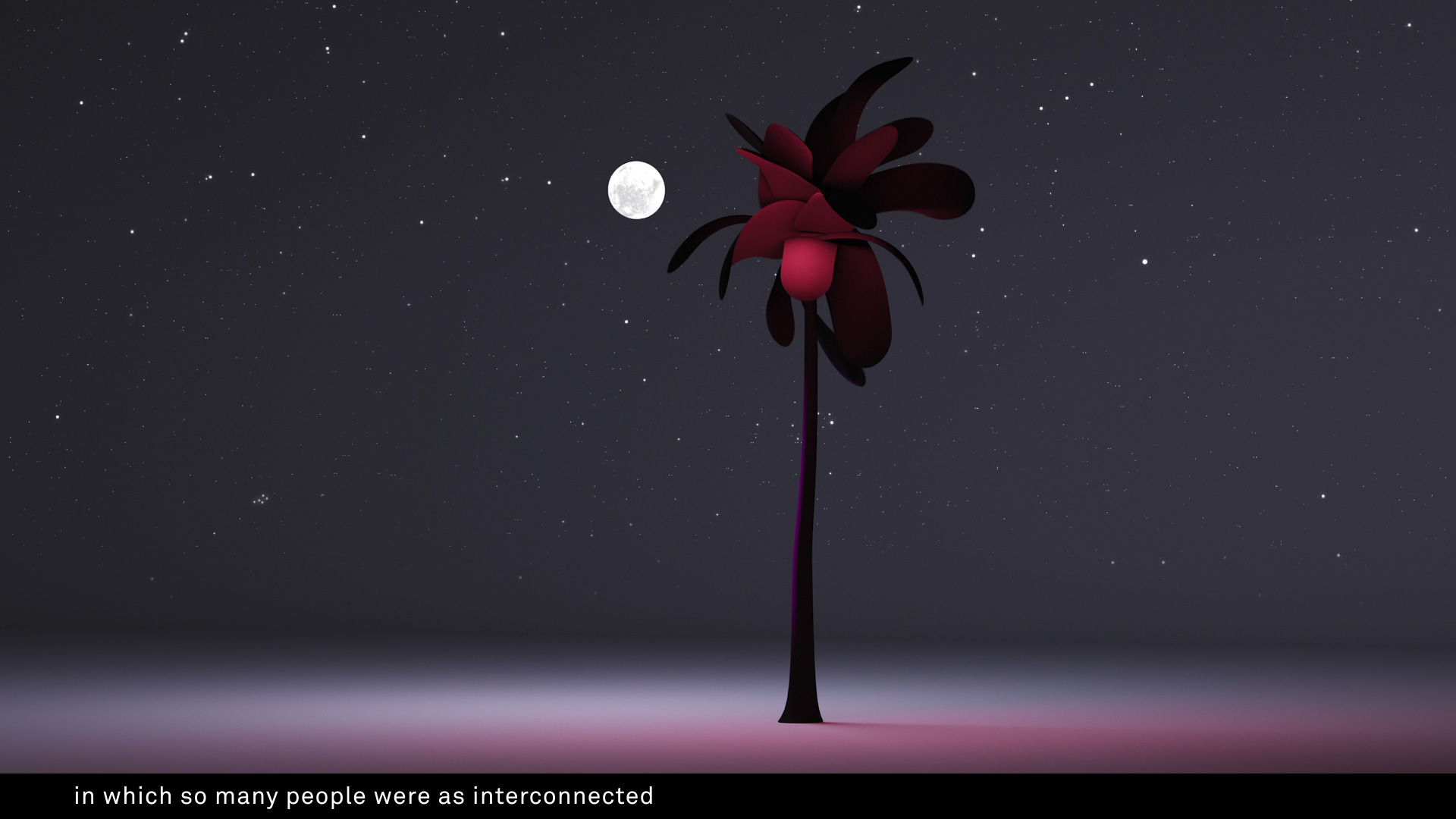 The world is complicated and one truth as good as the other. Your heart rate, your skin moisture, the melody of your voice. The tea that you drink, the strength of the wind, the amount of people in the room, the rhythm of your steps, the emotions of your chats, the length of the wrinkles in your face, the power supply lines passing by your house, permanent noises, your genome and that of your friends.
What belongs together? What acts together? You are instructing the laboratory of your own life, you decide who is correlating your data with what - you are what you measure. For the next twenty years you stay more or less healthy. Which one of the three forecasted diseases will get you in the end is still open. You are working daily on your health, but whether it helps you will only learn if it didn't help. Life is good for now.
Exhibitions / Talks
September 29th – November 25th 2018
Under Pressure – Über Formen des Autoritären und die Macht der Entscheidung
Q21, MuseumsQuartier, Vienna

June 7th – July 18th 2018
Regime der Vorhersage
Galerie Weisser Elefant, Berlin

March 2018
Bernd Hopfengärtner receives residency at Q21
Q21, MuseumsQuartier, Vienna

November 22nd 2015 – March 20th 2016
i.ch
Vögele Kultur Zentrum, Pfäffikon

Winner Speculative Concept Award 2016
Core77 Design Awards 2016

November 20th – December 18th 2015
Radical Memories
Chimera-Project, Budapest

May 29th – August 30th 2015
Poetics and Politics of Data
House of Electronic Arts Basel

June 25th 2015
Podium discussion organized by TA-SWISS
House of Electronic Arts Basel

TA-SWISS is a publicly funded institution that is creating expert reviews and recommendations on emerging technologies for the Swiss government, industry and society. This podium discussion brought together experts from the health sector, citizen science research, the Big Data industry and the public privacy executive. The project "Life Is Good For Now" was screened in excerpts during the podium to stimulate the discussion and visualize the theme of Big Data in the context of health and medicine.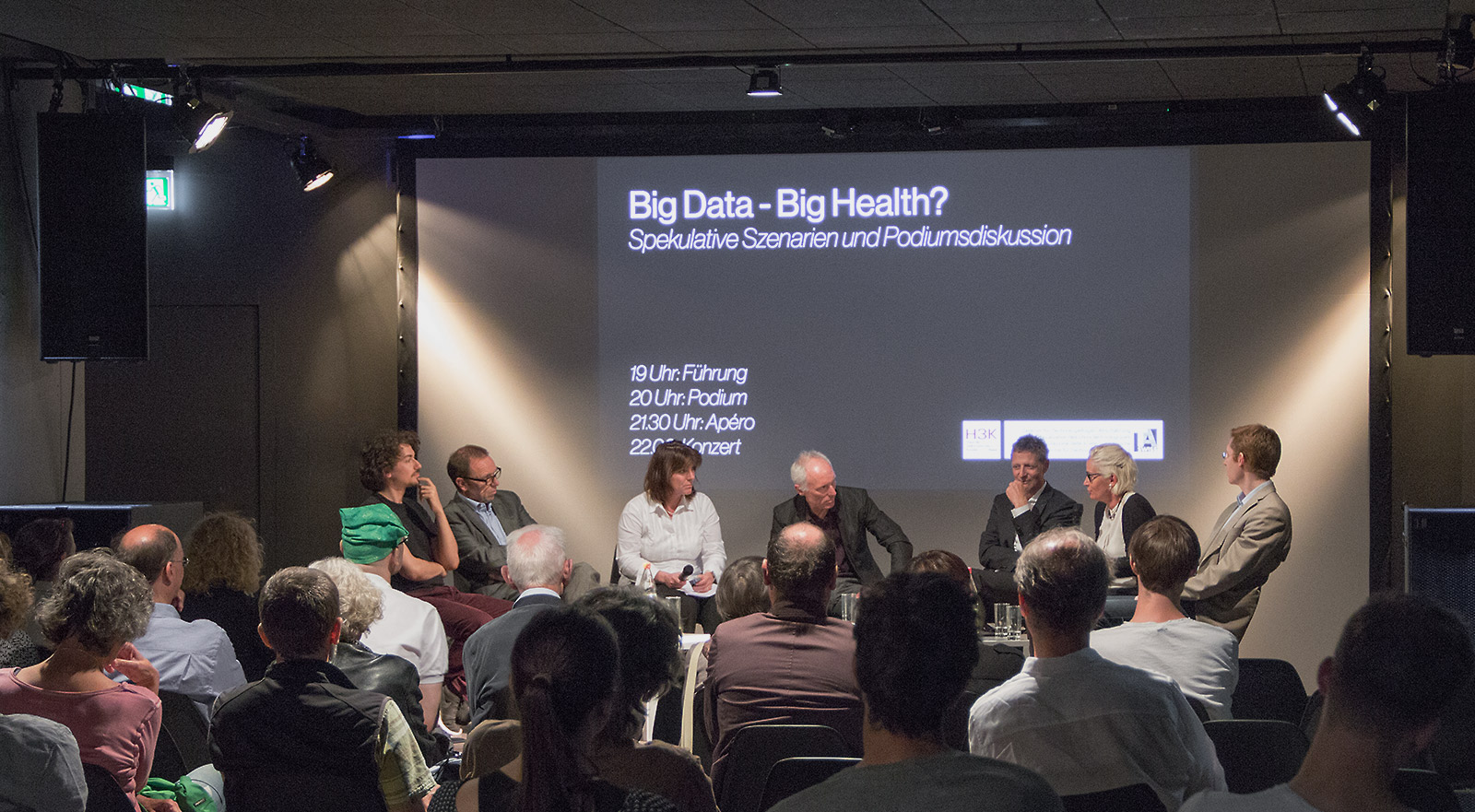 Podium participants from left to right: Ludwig Zeller (Design researcher HGK FHNW), Bruno Baeriswyl (Data Protection Officer Canton Zurich), Verena Nold-Rebetez (Director santésuisse), Thomas Müller (Radio moderator SRF and board member TA-SWISS), Ernst Hafen (ETH Zurich), Christiane Brockes (Head of Clinical Telemedicine University Hospital Zurich) and Reto Niedermann (Content Manager Dacadoo).
Credits
Bernd Hopfengärtner observes scientific concepts and ideas, current technical developments and cultural phenomena. His interest lies in the interdependencies of these fields and the spaces of possibility spanning between them. His work is about designing these spaces by creating tangible and more or less concrete artifacts: stories, videos and objects. By imagining the possible, the speculative, the non-existent, Art and Design can contribute to a broader discourse in a way that is not accessible by purely analytical means. Hopfengärtner is interested in Design as an interdisciplinary intermediary, placed in-between natural science, engineering, cultural and media theory and everyday-life. His work has been exhibited, among others, at the Wellcome Trust in London, the MoMA in New York and the National Museum of China in Beijing. Parallel to his own artistic and design practise he works as lecturer at the Academy of Media Arts in Cologne.
Ludwig Zeller explores the relationship between technologies and cultures through a multitude of artistic and scientific methods, blurring the borders between art and design. His current research is focusing on the concept of "thing narratives", linking thought experiments in narratology with the design of speculative material cultures. His practice shows a legacy in British Speculative and Critical Design, while being constantly on the move to expand and reflect the field. He is a faculty member of VIS_COM and IXDM at the Academy of Art and Design Basel, where he is part of the SNF funded research project Critical Artifacts. His work has been exhibited internationally at V2_ Rotterdam, FILE Sao Paulo and Rio De Janeiro, MU Eindhoven, Arnolfini Bristol, Barbican London, technarte Bilbao and written about in PAGE, Fast.Co Design, wemakemoneynotart and CAN.
Special thanks ...
... to Alexandra Adler, Christine D'Anna, Patrick Doberenz, Tobias Dummann, the ICT HGK FHNW, Moritz Grund, Sabine Himmelsbach, Marian Kaiser, Claudia Mareis, Thomas Müller, Giannina Ronchetti, Laurent Rueff and Daniel Teige.
The project was funded by the Swiss Center for Technology Assessment TA-SWISS
and Pro Helvetia and was initiated within a collaboration of the House of Electronic Arts Basel and the Institute of Experimental Design and Media Cultures.
Contact